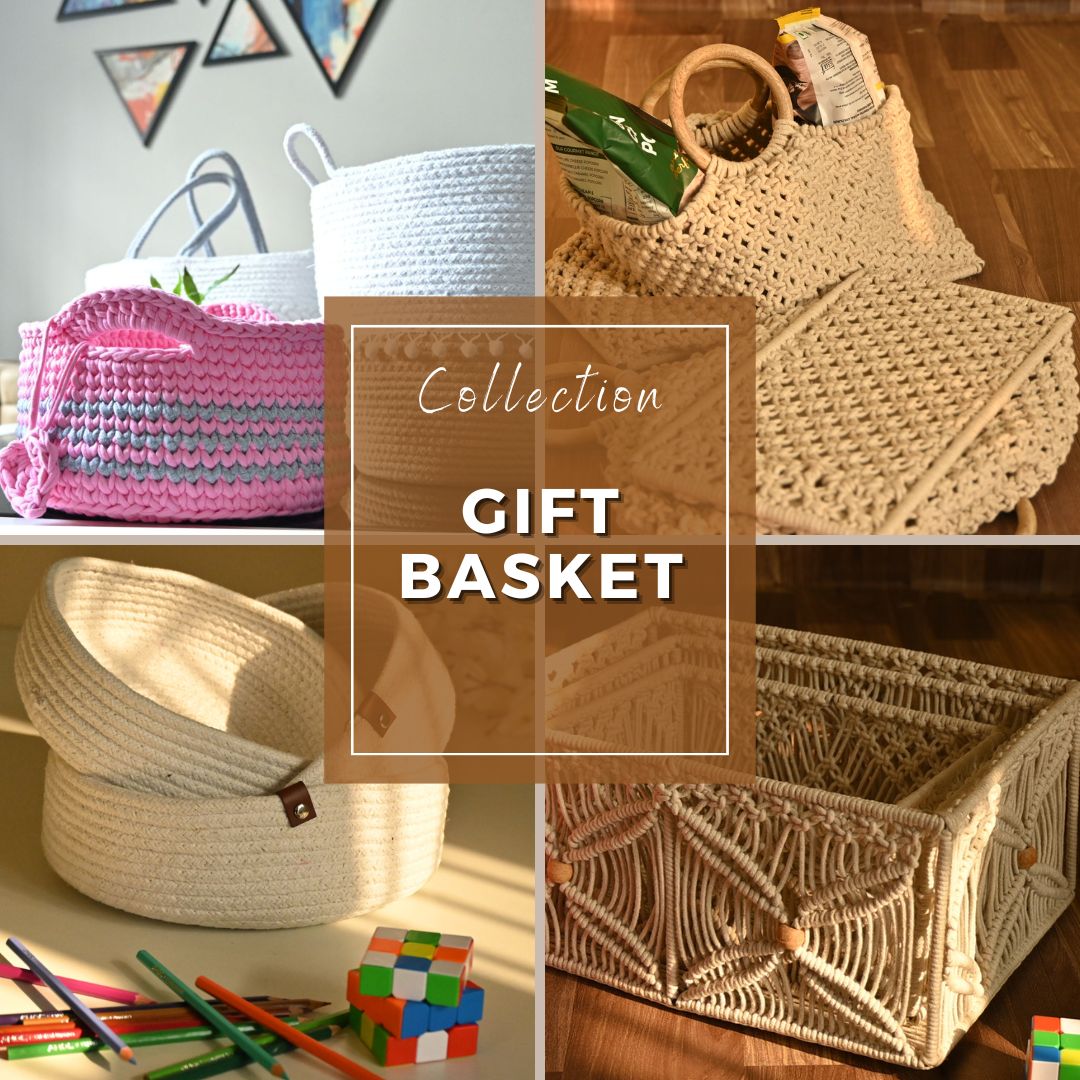 Looking for eco-friendly and unique gift hamper baskets? Check out our collection of jute gift baskets, perfect for packing gifts for weddings, housewarmings, Diwali, and other occasions.
Eco-friendly and stylish
Our jute gift baskets are made from natural jute and cotton fabric, making them a great eco-friendly option. The baskets come in a variety of sizes, so you can choose the perfect one for your gift.
Versatile and practical
These jute gift baskets are not just great for gift hampers, but also for storage and decoration. You can use them to store toys, blankets, towels, and more. They also make great decorative pieces, adding a touch of rustic charm to your home decor.
Easy and convenient
Ordering your jute gift baskets online has never been easier. Simply browse our collection of hamper baskets online, choose the one that suits your needs, and place your order. We offer flexible buying options, including single units or sets of two, available in multiple payment choices including COD.
Perfect for Weddings
Our hamper baskets are perfect for creating stunning wedding gift baskets or for gifting to your guests as a token of appreciation. The rustic charm of the jute and cotton fabric adds a touch of elegance to any wedding decor.
Make your Gift Hamper Stand Out
The jute gift baskets not only make your gift hamper stand out but also make a positive impact on the environment. So, choose our hamper baskets for decoration and storage needs, and make a positive impact on the environment.
Wedding Gift Basket | Return Gift Basket Ideas | Macrame Gift Boxes | Reusable Gift Baskets | Gift Hamper Basket Ideas | Hamper Basket Made From T-Shirt Yarn | Jute Gift Hamper Basket | Empty Gift Baskets Wholesale
The loop handles on this beautiful circular cotton basket add a touch of utility to your everyday objects while giving your home a bohemian feel. Put a potted plant inside and store your favorite reads, remote controls, laundry, linens, and throws next to your sofa. Besides being durable and useful, these baskets are ideal for decluttering. Regardless of the décor style, they look beautiful in any room.
Perfect for storing:
Napkins and medicines
Laundry for kids wear
Kids toys
Cosmetics
Utilities, keys, stationaries etc.
Fruit basket
Basket Specifications
Material: Cotton
Weight: 500 grams each
Size : 28x12 inch